Major Millions Slot
Different types of games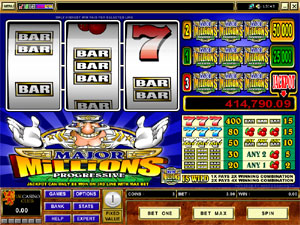 There is a clue in the title…yes you've guessed it, should you wish to win major millions playing online slot machines, then you should play Major Millions!
Progressive jackpots are two to a penny in the online world but none are as famous as Major Millions. This slot machine has the ability to quite literally change your life.
The game has habitually been a three-reel, three-pay line video slot machine created by the boffins at Microgaming but now also comes in the shape of a five-reel 15-pay line version as well.
The starting jackpot for the monster progressive is $250,000 so even if you won it as soon as it was reset you would still be taking home one of the markets biggest jackpots.
In the three-reel game the Major Millions symbol acts as the games wild symbol and it multiplies the payout on any winning combination it creates. Hitting one wild symbol will double your winnings while hitting two will quadruple them. In the five-reel game the wild symbol is the same only this time completing a win triples your payout.
To win the progressive jackpot on the three-reel version you need to line up three Major Millions symbols on the third enabled pay line. In the five-reel version you need to line up five Major Millions symbols on the fifteenth active pay line.
The first ever Major Million's millionaire was Tony P who in 2002 won an amazing $1,594,649,21. Then one year later Ron H won over $1,626,184. But none of these feats compare to the one achieved by one lucky punter back in November 2006, when the jackpot was struck twice in one night by the same player earning over $700,000.
Play Major Millions Slot at 32Red Casino ( Please note that South African Residents are unable to play at 32Red Casino )